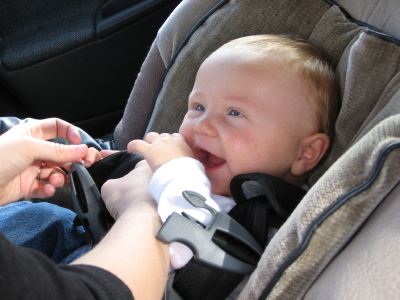 If you are like most parents or grandparents – you probably bundle up your little ones when the weather turns cold, before you secure them in their car seat.
One would think that is a "best practice" – right?
Investigators at NBC just released the results of a test looking at just how safe children dressed in winter coats and belted into their car seats really are in a car accident. The results are disturbing.
It turns out that loosening the straps of a children's car seat to accommodate a bulkier coat makes it much more likely your child will come tumbling out of both their car seat and their coat in a car crash.
So what are the options?
The American Academy of Pediatrics suggests dressing your child in thinner layers and tucking a coat or a blanket around the child over the buckled harness straps if needed.
And don't forget to safely install the car seat itself. In one recent study it was found that 46% of parents install these seats incorrectly. Here are some very important safety tips to consider – courtesy of DMV.org:
The main types of infant car seats include:
Rear-facing seats, which are required for all children up to 12 months old
Convertible car seats, which are designed to be modified as your child grows and may include more gadgets and straps that aid with restraint.
When installing a car seat:
Place it in the back seat.
Ensure the seatbelt straps/tethers are tight. You should not be able to move any strap, harness, or the entire seat itself more than an inch.
Make sure there are no twists in the seat belt straps.
Make sure the base of the car seat is at the correct recline angle. Many car seats come with a built-in adjuster or angle indicator.
If you have a vehicle manufactured prior to 1997, you may need to use a locking clip, which:

Is used to create a fixed length of webbing on a lap/shoulder belt when there is no other way to lock the belt.
Must be positioned within 1 inch from the latch plate.

If your car seat came with a base, the carrier handle should be out of the way when the car seat is attached. Read your car seat's instructions.
Safety restraints are a vital element for keeping family members safe in the event of a car accident. Use them always – and use them properly. And have a safe trip!