Medical Malpractice Lawyer
Real Lawyers. Real Results.

Connecticut Medical Malpractice Attorneys
Experienced Representation for Complex Medical Negligence Claims
Since 1955, RisCassi & Davis, P.C. has fought on behalf of victims of medical malpractice, seeking fair compensation for the devastating losses they endured and working to hold negligent medical providers accountable. We are a top medical malpractice law firm in Connecticut- our legal team has successfully secured some of the largest medical malpractice settlements and verdicts in state history, amounting to tens of millions of dollars.
If you believe you or someone you love is the victim of substandard medical care, reach out to our Connecticut medical malpractice lawyers today to discuss your legal rights and options during a free and confidential consultation. We handle all types of medical malpractice cases, including those involving serious bodily injury, illness, and wrongful death.
Contact RisCassi & Davis, P.C. online or call our office at (860) 245-2412 to get started with a free, no-obligation consultation.
Wrongful Death $12,600,000

Truck Accident $11,000,000

Paralyzed Worker $9,000,000

Medical Malpractice $8,100,000

Automobile Accident $7,500,000

Wrongful Death $7,500,000

Truck Accident $7,350,000

Wrongful Death $7,290,000

Personal Injury $7,200,000

Personal Injury $6,500,000
Filing a Medical Malpractice Claim in CT
If you believe you have grounds to file a medical malpractice claim in Connecticut, it is critical that you reach out to an attorney right away. The statute of limitations on medical malpractice lawsuits in Connecticut is two years from the date of injury (or date on which the incident that caused later injury occurred). However, the sooner you contact RisCassi & Davis, P.C., the sooner we can begin gathering evidence and analyzing the facts of your case.
Our medical malpractice lawyers in Connecticut are committed to the highest ethical standards, as well as to providing each and every client with the attentive, compassionate, and dedicated legal representation he or she deserves. We have recovered numerous seven-figure results for victims of medical malpractice and negligence and are ready to put our resources, skill, and expertise on your side.
What Is Medical Malpractice?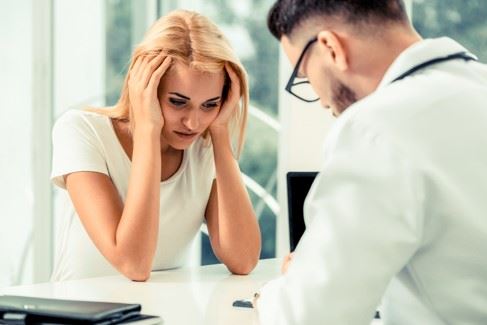 Medical malpractice is one of the most complex areas of personal injury law. Many people who have sought medical treatment and experienced negative outcomes may believe they are the victims of medical malpractice—however, this is not always the case.
In order to have grounds for a medical malpractice claim, you must prove that a doctor, nurse, hospital, or another healthcare provider failed to uphold the standard of care. Generally speaking, the standard of care is the level of treatment one could reasonably expect a healthcare professional or facility to provide. While doctors are not expected to be experts in all types of medicine, they are expected to know and follow the standards for their particular specialty.
For example, if you visit the doctor with mysterious symptoms, and, despite performing various tests, he or she is unable to diagnose your illness and decides to refer you to a specialist, your doctor has not committed malpractice. In contrast, if you visit the doctor and they do not run any diagnostic tests or misinterpret the results of your tests, causing them to provide you with an incorrect diagnosis (or no diagnosis at all), this could be an example of medical negligence. Attorneys that handle medical malpractice can help you determine whether or not that is the case.
Call us at (860) 245-2412or contact us onlinefor a free consultation. We can travel anywhere in Connecticut to meet you.
Our Clients Tell Their Stories
We Stand By You Every Step of the Way
"We are very pleased with the settlement, but will always be grateful for the honest professional service you shared with us."

- Michael and Linda

"My case was handled by an extraordinary group of dedicated, experienced and caring professionals."

- Ann S.

"I want to thank you for how you handled my case and for your generosity in bringing it to conclusion; particularly your patience and calm."

- Ilona

"Thank you and your exemplary staff for all of the good work you did on my behalf to achieve a settlement of my case."

- Susan

"I'm able to overcome minor permanent damage to my body. I have been able to use the settlement money to help me transition into a physically lighter work."

- Joe
Common Examples of Medical Malpractice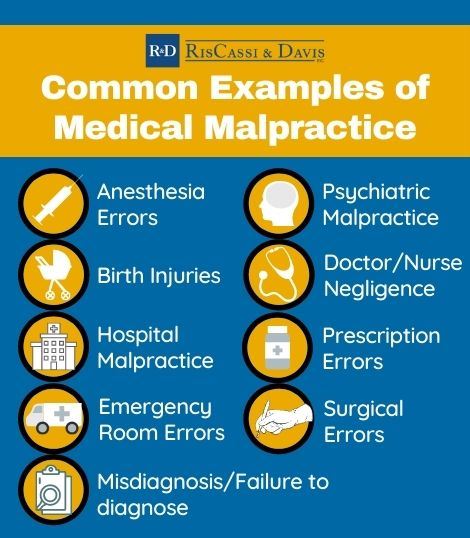 While medical malpractice can—and does—take many forms, we commonly see several types of medical malpractice and negligence in our clients' cases.
Some of the most common examples of medical malpractice include:
These and other examples of medical malpractice can have devastating effects. Victims may experience new injuries or worsened conditions. They may suffer rapid health deterioration due to a lack of proper, timely medical treatment and care and, in the most tragic of cases, victims may even die as a result of medical negligence.
At RisCassi & Davis, P.C., our medical malpractice attorneys in Connecticut fight to help victims of medical malpractice recover the maximum compensation they are owed for their damages. Seven of our attorneys are Board Certified as Civil Trial Law Advocates by the National Board of Trial Advocacy, granting them the rare distinction of being experts in civil trial law. We have an in-depth understanding of Connecticut medical malpractice law and can help you ensure your rights are protected.
Damages in Medical Malpractice Cases
As mentioned above, victims of medical malpractice and negligence commonly experience a range of negative consequences. Not only does substandard care affect victims' physical health, but it also has an immense impact on their emotional well-being and financial security, as well.
Depending on the specifics of your case, you could be entitled to receive compensation for the following damages:
Medical expenses associated with further treatment, hospitalization, etc.
Lost income/wages and other employment benefits (pensions, etc.)
Future medical expenses and lost earnings
Loss of earning capacity (disability)
Pain and suffering, including emotional distress and trauma
Costs associated with modifications to a home or vehicle to accommodate a disability
Medications, medical equipment, and medical devices
Counseling services
FAQs:
Does Connecticut have a medical malpractice damage cap?
Unlike other states, Connecticut does not have hard caps on damages, meaning there is no limit to the amount a plaintiff can recover in a medical malpractice case for either economic or non-economic damages.
How long do you have to file a medical malpractice lawsuit in Connecticut?
In CT you have up to 2 years after the incident to file a medical malpractice lawsuit. The exception to this rule is the "Discovery Rule" which allows you to file a lawsuit up to 2 years after the date you should have reasonably known that you were the victim of malpractice, assuming the error was not immediately apparent.
Significant Honors & Recognition

In our 65+ years of experience, we have received both national & regional recognition for our handling of injury cases, and many honors from our legal colleagues.

An Expert Team Approach

We have an extensive national network of experts available to us in the fields of medicine, engineering, traffic safety, accident reconstruction, and more – each available to work on your case should it require their expertise.

Over Half a Billion Dollars Recovered

We've taken hundreds of cases to trial and we've won some of the largest personal injury verdicts and settlements in Connecticut history.

Board-Certified Trial Lawyers

Our seven attorneys who have achieved this honor demonstrated they have the training & depth of experience to help you get the best possible outcome for your case.
Contact Us
Real Lawyers. Real Results.
Use the form or call us at (860) 245-2412 to get started today.