Pedestrian Accidents Real Lawyers. Real Results.
Connecticut Pedestrian Accident Lawyers
Addressing Failure to Protect Pedestrians from Foreseeable Risks
In addition to being aware of other drivers on the road, motorists should keep a look out for pedestrians, especially when approaching intersections, commercial areas, and densely populated areas. While accidents with other drivers can cause significant injuries, accidents involving pedestrians can be particularly severe and, often times, fatal. Our attorneys have the knowledge, expertise and resources to investigate and pursue pedestrian accident cases. In many of these circumstances, liability is hotly contested, making it all the more important that you have capable and experienced attorneys working on your behalf.
If you believe that our Connecticut pedestrian accident attorneys may be able to help, call us at (860) 245-2412 today.
Accident Risk with Retailers
With drivers more distracted than ever, the frequency of cars colliding with store fronts has increased steadily. Currently, vehicles crash into commercial buildings as many as 20,000 times per year, causing approximately 4,000 serious injuries and 500 deaths annually. Several large retailers experience vehicle strikes on a regular basis including Walgreens, Dunkin' Donuts, RedBox, Mobil, and 7-11. We've learned from our experience that these retailers are well-aware of this epidemic of pedestrian injuries but choose to keep that information from the public. Many companies install bollards to protect their own assets, but neglect to implement the same basic safety measures to protect their customers.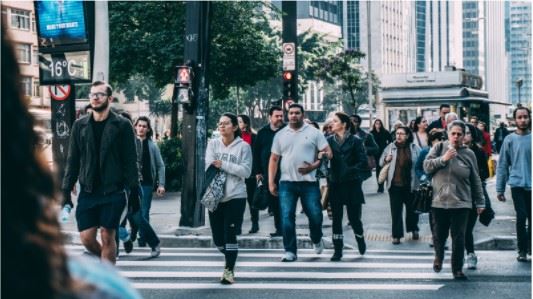 Bollards & Proper Site Design Protect Pedestrians
Proper parking lot and site design can mitigate these risks. Installing pipe bollards in areas of high pedestrian activity is an easy cost-effective way for stores and other businesses to protect their customers from the foreseeable risk of vehicle strikes.
Bollards are often installed in areas that see heavy foot traffic, such as building entrances and exits, and in other areas of buildings that see heightened pedestrian activity. Having several closely installed bollards (no more than 5 feet apart) is essential. When storefronts just have a couple of bollards, spaced apart, it allows the chance for cars to slip in-between bollards and reach buildings or other pedestrian areas.
What Are the Main Causes of Pedestrian Accidents?
Most pedestrian accidents are avoidable, whether they're the fault of the pedestrian, the business owner, or the motorist. Here are some of the most common causes of pedestrian accidents:
Motorists failing to yield right of way to pedestrians (and vice versa)
Failure to use marked intersections when crossing the street
Poor lighting or visibility
Driving or walking while intoxicated or under the influence of drugs
Distracted driving, particularly drivers who are texting or using their phones
Entering the roadway suddenly or playing/standing/lying in the roadway
What Kind of Compensation Can I Claim for a Pedestrian Accident?
If you were hit by a driver and injured because of their negligence, you may be able to receive compensation for the following:
Pain and suffering
Lost income/lost wages
Inability to return to work or to the same type of job
Medical expenses and ongoing treatment
Loss of enjoyment of life
Scarring or disfigurement
Can You Still Receive Compensation if You Were Jaywalking?
When a pedestrian is in a crosswalk they have right-of-way and a driver will be held liable for any accident that occurs. However, if a pedestrian is jaywalking and gets hit by a car, they may share some responsibility for the accident. However, even if you are found to be partially at fault for the accident, that doesn't mean you can't still recover compensation. Since Connecticut is a comparative negligence state, that means that as long as you are less than 51% responsible for the accident, you can still recover some amount of compensation for your injuries.
Contact RisCassi & Davis, P.C. Today for Expert Representation!
If you, or someone you know, have been injured in a crash into or nearby a retail location, you may be entitled to financial compensation not only from the driver but from the store or property owner as well. Our pedestrian accident lawyers in Connecticut may be able to help.
Contact RisCassi & Davis, P.C. today to schedule a free initial consultation with our pedestrian accident attorneys in Connecticut.
Related Reading:
Our Settlements & Verdicts
Recent Case Victories
$12.6 Million Wrongful Death

Injury and death damages as a result of an explosion at the Kleen Energy plant.

$11 Million Truck Accident

Collision with commercial delivery truck results in brain injury.

$9 Million Paralyzed Worker

$9,000,000 settlement for a paralyzed construction worker.

$8.1 Million Medical Malpractice

Improperly performed biopsy lead to wrongful death.

$7.5 Million Automobile Accident

Nursing student who was rendered a paraplegic as the result of a motor vehicle accident.