Car Accidents
Real Lawyers. Real Results.
Connecticut Car Accident Lawyers
Auto Accident Attorney Fighting for Car Accident Victims
After a serious car accident, victims are often left feeling overwhelmed and unsure of what to do next. If you were injured, you need medical attention and ongoing care—but how will you be able to afford your medical bills, especially if your injuries require you to take time off work to heal? How will you manage day-to-day expenses while you are out of work, and how will you be able to pay for vehicle repairs or afford a new car if yours was totaled?
In the event that you have been injured as a result of someone else's negligence or carelessness, our Connecticut car accident lawyers are here to help. The help of a seasoned injury attorney is essential during times like these. With the help of our accident attorneys, you can focus on putting your life back together knowing your case is in the right hands.
Why Hire Our Connecticut Car Accident Attorneys?
At RisCassi & Davis, P.C., we are here to guide you through this process. Since 1955, our firm has successfully represented countless injured clients and recovered the compensation they were owed for their medical bills, lost wages, and pain and suffering. Our car accident lawyer in Connecticut can help you understand your rights and what comes next. Most importantly, we are ready to take on the insurance company and aggressively advocate for you and your recovery.
If you were injured in a car accident anywhere in Connecticut, reach out to our Connecticut car accident lawyers right away for a free, no-obligation consultation. Call (860) 245-2412 to get started.
What To Expect with Your Auto Accident Claim
Many auto accident cases involve basic facts and issues. If this is true in your case, RisCassi & Davis, P.C. will seek the swiftest resolution possible for you. Typically, this involves reaching a settlement with the insurance company of the at-fault driver.
If, however, your car accident involved complicated legal and factual issues requiring intensive legal, medical, or scientific research, we will assign an expert legal team that includes your own personal attorney to help ensure justice is served. With seven attorneys who have earned Board Certification as Civil Trial Law Advocates by the National Board of Trial Advocacy, we are ready to put our extensive skills, resources, and expertise on your side.
Our Resources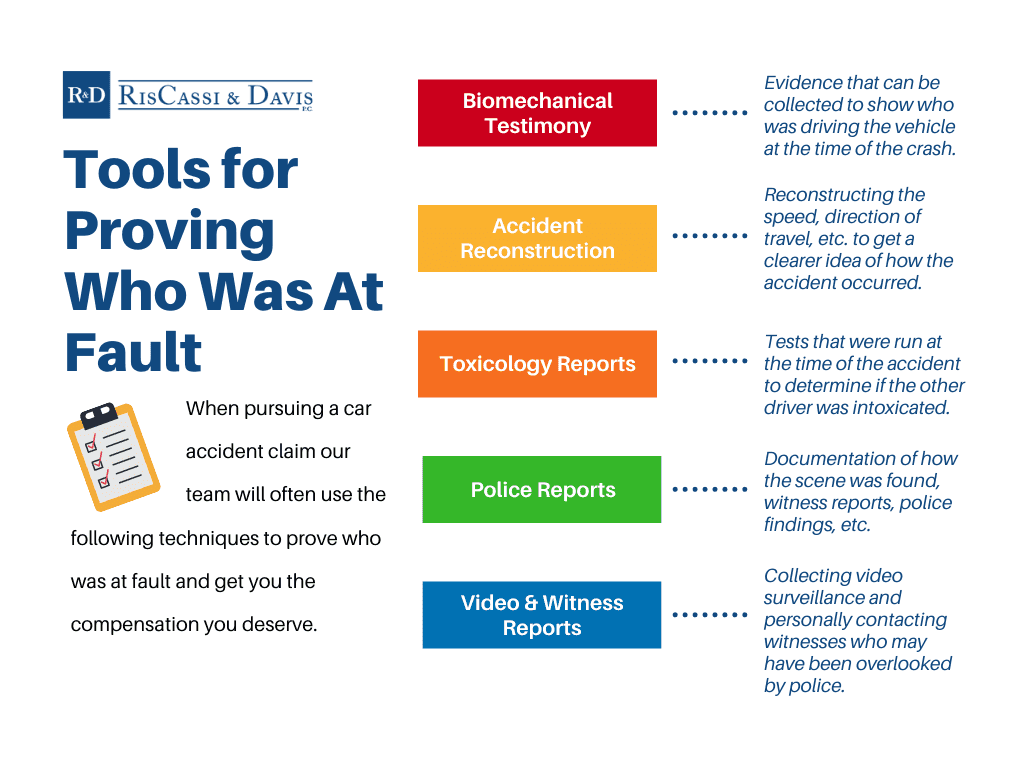 At RisCassi & Davis, P.C., our Connecticut car accident attorneys have access to invaluable resources and expert witnesses to help prove your auto accident claim.
For example:
We may consult with accident reconstruction experts to reconstruct speed or direction of travel from measurements of vehicle damage and road markings.
We may employ biomechanical testimony to show who was driving a vehicle.
We may use toxicologists to help demonstrate that a defendant was intoxicated—or that you were not.
These are just some of the ways we work to build strong, effective cases for our clients. When you trust your recovery to our Connecticut car accident lawyers, you can rest assured that we will put the full power of our experience, reputation, and resources behind you.
When Should You Get a Lawyer for a Car Accident?
Knowing when to reach out to a car accident lawyer after you've been injured in an accident can be a tough call. Even if you think an injury is minor, it can still be a good idea to get a lawyer's opinion to see if you should pursue legal action. That minor injury could lead to more problems down the line and may require you to see a specialist or take part in physical therapy.
Another big indicator of needing a lawyer is if an insurance company is trying to keep you from getting paid after an accident.
If you're unsure if you need a lawyer, reach out to our Connecticut car accident lawyers today to learn more about how we can help!
Proving Your Car Accident Case
Connecticut is an at-fault state, which simply means that you must prove another driver (or some other party) was to blame for the accident if you wish to recover compensation for your losses. Rather than file a claim with your own insurance company, you will generally file a claim against the at-fault driver's insurance provider.
Notably, because Connecticut follows a rule of modified comparative negligence, you do not have to prove that the other driver was entirely at fault for the accident, only that he or she was more at fault than you were. As long as you were less than 50% at fault, you can still file a claim and recover compensation. However, your total recovery will be reduced by your percentage of fault. For example, if a jury finds you 20% to blame for the collision, you can only recover up to 80% of the total award you would have otherwise received if the jury found you completely free of fault.
So, how do you prove another driver/party was to blame for the accident? In most cases, you can demonstrate the other driver/party's fault by proving he or she was negligent in some way.
Examples of driver negligence include:
| | |
| --- | --- |
| | Failing to follow the rules of the road |
| | |
| Driving while under the influence of alcohol/drugs | Making unsafe or illegal turns |
| | |
| | Reckless or aggressive driving |
These and other negligent driving actions can lead to serious accidents that may result in catastrophic injury or even death. But driver negligence isn't the only cause of auto accidents. In some cases, an auto defect, such as a tire that shreds at high speeds or a vehicle that accelerates on its own, can contribute to or cause a crash. In other instances, a poorly designed road or defective construction can cause an accident. At RisCassi & Davis, P.C., we can investigate your case to determine exactly what happened and who was at fault.
What is Defensive Driving?
One way you can help protect yourself from car accidents is to practice defensive driving. Defensive driving is when you take steps to remain alert and aware of potential hazards such as other drivers, inclement weather, or poorly maintained roads.
A few of the most important techniques of a defensive driver include:
Taking your time
Staying alert
Avoiding distractions (texting and driving)
Staying calm
While defensive driving doesn't guarantee you won't be involved in an accident, it can help to ensure you aren't the reason the accident occurs.
Cases Our Connecticut Car Accident Lawyers Handle
Our firm is capable of handling all types of car accident claims, including those involving:
Please note that this is not an exhaustive list; if you were injured in any type of car or motor vehicle accident in Connecticut, get in touch with our team to learn how we can help.
At RisCassi & Davis, P.C., we offer tough, effective representation and compassionate, personalized client support. When you choose our firm, you will receive direct attention from your attorney throughout the legal process, as well as consistent communication and guaranteed responsiveness. We understand what you have been through and the challenges you face, and we are ready to fight for the maximum recovery you need to get back on your feet.
Call our office at (860) 245-2412 or contact us online to request a free, no-obligation consultation with our car accident lawyers in Hartford, Connecticut.
Related Reading:
Wrongful Death $12,600,000

Truck Accident $11,000,000

Paralyzed Worker $9,000,000

Medical Malpractice $8,100,000

Automobile Accident $7,500,000

Wrongful Death $7,500,000

Truck Accident $7,350,000

Wrongful Death $7,290,000

Personal Injury $7,200,000

Personal Injury $6,500,000