Truck Accidents
Real Lawyers. Real Results.
​Connecticut Truck Accident Lawyers
Injury Claims Involving Semi-Trucks, Big Rigs & Other Large Commercial Vehicles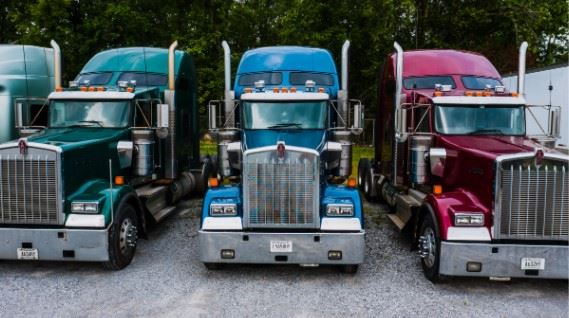 ​Since 1955, the Connecticut truck accident lawyers at RisCassi & Davis, P.C. have represented many thousands of people injured in motor vehicle accidents with large semi-trucks, big rigs, delivery trucks, 18-wheelers, and other commercial vehicles. We are ready to help you fight for the fair compensation you are owed.
Why choose RisCassi & Davis, P.C.?
We are a nationally recognized legal team that has been highly awarded and honored for our work on truck accident cases
You will receive a dedicated legal team, including a lead attorney, that will remain readily available to help you along the way
We always respond quickly to all client inquires and requests, and we offer personalized and compassionate representation you can trust
Our team has successfully secured tens of millions of dollars for our clients, including some of Connecticut's largest injury settlements and verdicts
We do not charge any upfront or out-of-pocket expenses; our attorneys' only collect fees if and when they win your case
We are able to travel anywhere in Connecticut to meet with you, whether that's in your home or at the hospital, and we offer evening and weekend appointments upon request.
Call us today at (860) 245-2412 or submit an online case evaluation form to request a free, no-obligation consultation. Our Connecticut truck accident attorneys are standing by to help.
On This Page:
Common Causes of Truck Accidents
​Trucks often weigh 20 times more than cars and are much taller with greater ground clearance than cars. The weight discrepancy alone often causes much of the damage in these accidents, though the height of trucks often leads smaller vehicles to underride trucks in collisions, as well.
Braking Issues
Truck braking capability is also a major factor in truck crashes. Loaded tractor-trailers take 20 to 40 percent farther than cars to stop, and the discrepancy is greater on wet and slippery roads or in trucks with poorly maintained brakes.
Driver Fatigue
Truck driver fatigue is also recognized as a crash risk factor. Often, truck drivers are fatigued due to hours-of-service violations. When trucking companies put pressure on truck drivers to meet strict deadlines or unrealistic quotas, drivers can be tempted to drive beyond the allowable hours, leading to fatigue. Fatigue has been shown to be just as dangerous as intoxication when it comes to operating a motor vehicle.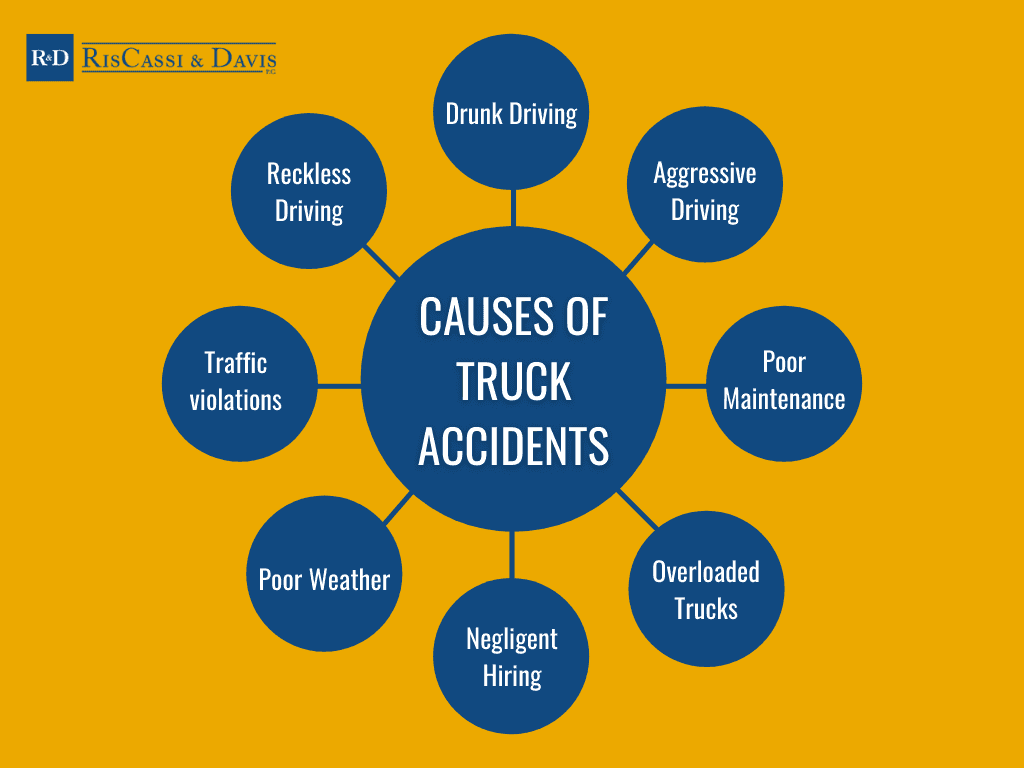 Other common causes of truck accidents include:
Speeding
Aggressive/reckless driving
Traffic law violations
Overloaded trucks
Improperly loaded cargo
Negligent hiring/supervision
Lack of truck maintenance
Failure to repair truck parts
Defective roadways
Unsafe weather conditions
Because of their size and weight, trucks are statistically more likely to be involved in multi-vehicle accidents. The devastation caused by these collisions is immense—and the liable party can and should be held accountable.
Who Is Liable for Truck Accidents?
Truck accident cases are very complex due to the many potentially liable parties.
Some of the many possibly liable entities include:
The trucking company
The truck driver
A hiring manager or supervisor
The person/party responsible for truck maintenance
A truck repair company
A manufacturer of a defective truck/truck part
Another motorist or third party
A construction company that designed/built a defective road
Truck Accident FAQ:
Do semi truck accidents usually go to trial?
Most personal injury cases don't end up going to trial because they are able to settle outside of court. Our firm will do our best to get you a fair settlement pre-trial, but if we are unable to reach a satisfactory offer, we will not hesitate to take your case to court to get you the compensation you deserve.
How much compensation can you get from a semi truck accident?
Semi truck accident settlements usually average fairly high settlement amounts because the injuries associated with these kinds of accidents are often catastrophic. No matter what injuries you have sustained, we will fight to get you fair compensation for: medical expenses, lost income (both past and future), pain and suffering, and any other damages.
What percentage of accidents are caused by trucks?
2019 data
published
by the National Highway Traffic Safety Administration (NHTSA) showed that over 5,000 individuals were killed in crashes involving large trucks. In the same year over 159,000 were injured in the same kind of accidents.
How long do you have to sue after a CT truck accident?
If you were injured in a truck accident you have up to 2 years to file a personal injury claim in Connecticut. In cases where surviving family members are filing on behalf of lost loved ones, you have up to 2 years after the individual's death to file a wrongful death claim on their behalf.
What are the "no-zones" when driving near semi trucks?
"No-zones" refer to the blind spots around a commercial truck where the driver is least likely to see you. These no-zones typically span from the side doors on the truck and include the lanes on either side of the truck's trailer. Staying in these areas for a long period of time, or attempting to pass a truck (particularly on the right) put you at greater risk for being involved in an accident.
What Should I Do Following a Truck Accident?
In the days following your accident it's imperative that you take the following steps to protect your rights and your case:
Get medical attention and keep a record of any injuries or treatments received
Contact a tractor trailer accident attorney as soon as possible before talking with any insurance companies
Avoid giving any information to the trucking company's insurance; allow your lawyer to speak on your behalf
Refer any inquiries from insurance companies to your lawyer
Take it easy and allow yourself to recover; truck accidents can be traumatic and it's important that you give yourself time to come to terms with things
Trust Your Case to Our Skilled Team of Connecticut Truck Accident Lawyers
Our truck accident lawyers in Connecticut have worked on hundreds of truck accident cases over our more than 65 years of practice, and we have experts in trucking and truck accident reconstruction available to give you every advantage in your case.
We have handled cases involving improper loading of trucks, excessive weight, improper adjustment of brakes or slack adjusters, failure to use mirrors or rear vision cameras, excessive speed, and following too closely or tailgating by tractor-trailers and other trucks. In other words, we have seen it all.
It's important to note that accidents involving trucks are not always the fault of the truck driver. We have also been pleased to represent truck drivers who were injured through the negligence and carelessness of other drivers.
Please contact our Connecticut truck accident lawyers today to learn how we can help you. Call (860) 245-2412 or submit an online request form.
Related Reading:
Wrongful Death $12,600,000

Truck Accident $11,000,000

Paralyzed Worker $9,000,000

Medical Malpractice $8,100,000

Automobile Accident $7,500,000

Wrongful Death $7,500,000

Truck Accident $7,350,000

Wrongful Death $7,290,000

Personal Injury $7,200,000

Personal Injury $6,500,000