Connecticut Motorcycle Accident Attorneys
Trusted Representation for Motorcycle Accident Claims
Being injured in any type of motor vehicle accident is an extremely stressful experience. In the aftermath of the crash, you'll need to obtain proper medical attention and could be out of work for days or even weeks. If your injuries are severe, you could find yourself unable to return to work. When you are hit while riding your motorcycle, the risks of suffering life-altering injuries can be quite high.
In a 2019 study, the Department of Public Health found that over 750 motorcyclists were killed in Connecticut. In comparison to other states, Connecticut's motorcyclist fatality rate is exceptionally high. While some may attribute this high death rate to Connecticut's lax helmet use law, this is not always the case.
Who Is At Fault in Most Motorcycle Accidents?
While many people believe all or even most motorcyclists are reckless, risky drivers, this could not be further from the truth. In reality, the vast majority of motorcycle owners are incredibly safe and skilled drivers. Unfortunately, they cannot always predict what other motorists on the road are going to do, and they cannot always avoid accidents.
At RisCassi & Davis, P.C., we proudly represent injured bikers throughout Connecticut. We understand the unique challenges you face, including proving your case to an often biased jury. We know that you are likely dealing with significant physical, emotional, and financial hardships—and we want to help you get back on your feet. We provide aggressive legal representation that has helped us recover tens of millions of dollars for our clients.
If you would like to speak to one of our Connecticut motorcycle accident lawyers about your potential case, please feel free to call our office at (860) 245-2412 for a free, no-obligation consultation.
What Are Some of the Most Common Causes of Motorcycle Accidents?
Research has shown that some of the most common causes of motorcycle accidents are caused by cars attempting to make a left-hand turn and striking the motorcyclist. This can occur in several different scenarios:
When the motorcyclist is going straight through an intersection and the car makes an unprotected left-hand turn
When the motorcyclist is attempting to pass the car on the left and the car turns into them
Some other common causes of motorcycle accidents include:
Lane-splitting
Collision with fixed objects
Poorly maintained roads (loose gravel, potholes, etc.)
Speeding
How A Motorcycle Accident Lawyer from Our Firm Can Help
At RisCassi & Davis, P.C., we do everything in our power to help injured motorcyclists recover full and fair compensation for their losses. We fight to hold negligent parties accountable while also tailoring our services to the unique needs of motorcycle injury claims. Our motorcycle accident lawyers in Connecticut will carefully review all of the details of your case, often utilizing the expertise of accident reconstructionists, expert witnesses, medical professionals, and economists to paint a clear picture of what happened and the full extent of your injuries and damages. If your case goes to trial, we carefully examine each prospective juror to determine if they hold any prejudices against motorcycle owners/operators.
Motorcycle Accident FAQ:
Does Connecticut require motorcyclists to wear helmets?
As of right now Connecticut still requires passengers and operators under the age of 18 to wear a helmet while riding a motorcycle. However, there have been attempts to raise this age to 21 in the last several years.
Are you allowed to lane split in CT?
No. For the time being, Connecticut law still prohibits lane splitting (the act of riding on the line between two separate lanes in order to pass other vehicles).
How Can Drivers Be More Aware of Motorcyclists?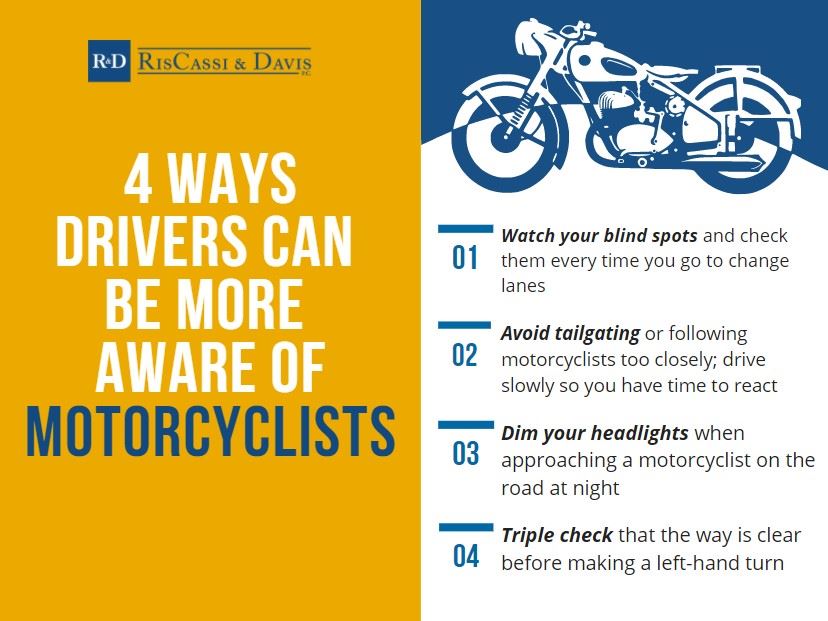 As a motorist, there are several things you can do to improve your motorcycle awareness and help keep your two-wheeled friends safe:
Keep an eye on your blind spots and be sure to check them each time you go to change lanes or turn
Drive at a slower speed when around motorcycles to allow more time for you to react to any hazards
Use your turn signals
Do not tailgate or follow a motorcyclist too closely
Dim your headlights when passing a motorcyclist on the road at night- they are often right on eye-level with your headlights
Double and triple check whenever you go to make a left-hand turn
Never drink and drive
Obtaining Fair Settlements for Motorcycle Accidents
We know what it takes to effectively pursue compensation for you, and we are ready to aggressively advocate for your rights. Our motorcycle accident attorneys in Connecticut have successfully secured some of the largest injury settlements and verdicts in Connecticut history—put our extensive resources, skills, and experience on your side.
Call (860) 245-2412 or contact us online for a free consultation. There are no fees unless we recover compensation for you.