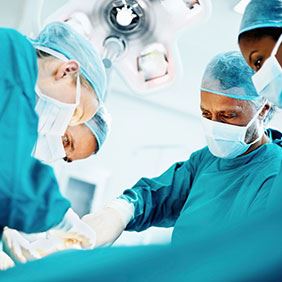 Have you ever needed surgery and assumed you'd have the procedure in a hospital – only to discover that you would instead have the procedure done at what's called a surgery center?
So just what is a surgery center?
Surgery centers are healthcare facilities focused on providing same-day (in-and-out) surgical care.
They began to crop up in the 1970s as "low-cost" alternatives for minor surgeries.
And they were an idea with some merit – for low-cost, low-risk procedures.
Then federal regulators began approving an ever-widening array of outpatient procedures in an effort to cut Medicaid and Medicare costs.
Medicare actually ignited the expansion of surgery centers when it began paying for such out-patient procedures in 1982.
Then Congress got in the act, encouraging doctors to open surgery centers by exempting them from the so-called "Stark Law." That law was written to prevent doctors from steering patients to businesses they own.
Finally – seeing lucrative elective surgeries moving away, hospitals got in the act, buying centers of their own.
And then last year, insurance giant UnitedHealth Group spent $2.3 billion buying a national surgery center chain.
The result – surgery centers now outnumber hospitals in America.
They now also perform increasingly risky procedures. And that, it turns out, is putting patients at risk of life-threatening injuries, even death.
In a recent investigation of these centers, Kaiser Health News and USA TODAY discovered that more than 260 patients have died since 2013 after in-and-out procedures at surgery centers across the country. Many — some as young as 2 — have died after routine operations, such as colonoscopies and tonsillectomies.
Why would surgeons ever opt to perform a risky procedure in a surgery center?
While out-patient surgeries do come with risk, they can also come with rewards for some surgeons.
Doctors who own a share of a center (and many do) can earn their surgical fee as well as part of the surgical procedure's "facility's fee." And that facility fee can be a meaningful sum for operations that can cost $100,000 or more.
Did federal regulators not contemplate the dangers of an ever-expanding list of approved procedures?
Actually – they did. Every licensed surgical center is required to have a relationship with a local hospital – one that can take patients when emergencies arise.
Unfortunately, patients facing a medical emergency rarely can wait the 30 minutes or more required for transport to a hospital.
An organization called the Physician-Patient Alliance for Health & Safety has expressed concern, pointing out that surgery centers and physicians often push the envelope on how much can be done in outpatient centers.
Medicare has requested that all surgery centers assess patient risk before accepting patients, but federal inspectors flagged 122 surgery centers in 2015 and 2016 alone for lapses in risk assessments. Some centers failed to gauge risk at all. Others overlooked their own policies.
Dr. Nancy Epstein, chief of neurosurgical and spine care at New York University Winthrop Hospital, says surgical centers are making so much money — "reeling it in hand over fist" that they're ignoring potential dangers.
The question we must ask again is why?
Why do so many choose profit over patient/consumer safety? Would they ask their own family members to do the same?
If you or a loved one is ever the victim of a surgical error, a defective drug, the improper prescription of a drug therapy, over-exposure to medical radiation, a hospital-acquired infection, a fall while in the hospital, a preventable blood clot, a misdiagnosis, or any form of medical malpractice, call a qualified Connecticut medical malpractice lawyer. A knowledgeable medical malpractice attorney can help to ensure that your rights are protected.
RisCassi & Davis has handled hundreds of medical malpractice cases over our more than 60 years serving the people of Connecticut.
What's more, our Connecticut medical malpractice lawyers have received local and national recognition for our handling of these cases.
We have a great team of legal experts dedicated to medical malpractice in Connecticut. Please contact us if we can help you.
The consultation is free and there is no obligation of any kind.