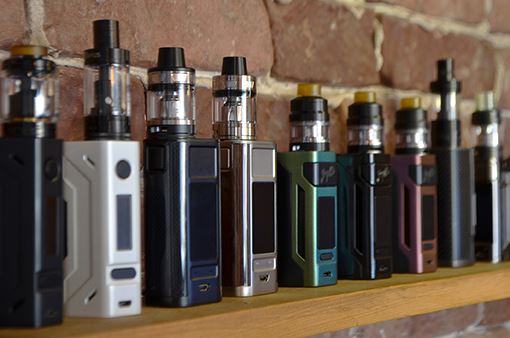 When electronic cigarettes (also known as vaping devices) first arrived on the scene, they were heralded as a health breakthrough for smokers.
Research findings now show there is, among other things, a negative effect on heart and lung function associated with e-cigarette use. There is also new evidence that they may cause seizures in some individuals.  The aerosol (what looks like smoke to the naked eye) from e-cigarettes contains heavy metals (lead, tin, nickel, etc.) and many other potentially harmful chemicals including diacetyl, a chemical linked to lung disease.
The aerosol also contains high levels of nicotine – the same addictive substance found in conventional cigarettes.
Sadly, makers of e-cigarettes have been aggressively marketing their products to adolescents, leading to a 78% increase in the use of these devices among this age group over the last 18 months.
If that's not bad enough, NBC News is now reporting that some vaping devices contain batteries that have been known to explode without warning.
These battery explosions have sent over 2,000 people to emergency rooms in the U.S. in the last three years.  Two people have died from injuries suffered in these incidents.
The battery is called "18650".  According to first responders – when these batteries explode at head level, they send a hot metal projectile into the skull that then falls to the ground, often igniting a fire.  In other instances, they have exploded in clothing pockets causing burns to legs, arms, and hands.
In 2017, the U.S. Fire Administration began warning consumers that "…the shape and construction of electronic cigarettes can make them [more likely than other products with lithium-ion batteries] to behave like 'flaming rockets' when a battery fails."
At least one safety organization, Underwriter Laboratories, has announced new safety standards for these devices.
And the FDA appears to be getting into the act as well, having finalized guidance for makers of these devices.  The agency now recommends companies provide detailed information about batteries used and the likelihood of overheating and fires.  Other consumer advocates are warning consumers to use great care when selecting a replacement battery for these devices.
Do vaping devices have any redeeming qualities?
Some health experts believe they help smokers kick the habit.   Tobacco cigarettes are considered a far worse health hazard.
But why in the world did the FDA and FTC allow manufacturers to aggressively market and sell these products to children – in many cases hooking them for life on nicotine?
Too late for tens of thousands of kids, the FDA is now moving to restrict the promotion and sale of these products to minors while also banning the sale of flavored vaping products.
If you or a loved one has been injured by a defective or dangerous product, call a qualified Connecticut product liability lawyer.  A knowledgeable product liability attorney can help to ensure that your rights are protected.  What's more, our product liability lawyers have received local and national recognition for our handling of cases like these.
We have a great team of legal experts dedicated to product liability cases in Connecticut. Please contact us if we can help you.
The consultation is free and, there is no obligation of any kind.