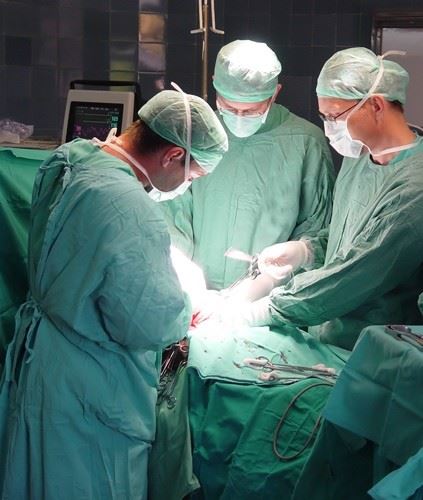 A new research study has just been published on what really happens during surgery. The study was done at one of America's better hospitals and the report is disturbing.
Researchers at Harvard were anxious to understand how many medical mistakes are actually made just before, during, and immediately after surgery.
What did they find?
Not what they expected.
Half of all surgeries involve medical errors and medical malpractice.
Fifty-percent.
Another chilling fact… The study was conducted at Massachusetts General Hospital – considered by leading health authorities to be a U.S. leader in patient safety.
Not only did the Harvard team find a high error rate – mostly tied to medication errors – 30% of the errors resulted in significant patient harm.   Another 69% of the errors were defined as serious.
News of these results led to one leading researcher at Yale to proclaim that "awareness of problems is where all solutions begin."
So is the medical community just learning of the high rates of medical error (sometimes referred to as iatrogenesis) and medical malpractice for the first time?
Not even close.
In 1955, Dr. David P. Barr of New York was the first one to raise the alarm about the dangers and extent of iatrogenic diseases, in an article called Hazards of Modern Diagnosis and Therapy—the Price to Pay. He wrote: "Therapeutic preparations are confusingly numerous and varied. In the lists of 1953, more than 140,000 medicaments were available to practitioners, and 14,000 new preparations were added during the year. Accretion is still far greater than deletion, although it has been estimated that perhaps 90% of drugs now in common use have been introduced within the last 25 years. … In a medical service of a great hospital, over a period when approximately 1,000 patients were admitted, more than 50 major toxic reactions and accidents [>5%] consequent to diagnostic or therapeutic measures were encountered."
In 1964, Dr. E. M. Schimmel of Yale University School of Medicine confirmed Dr. Barr's startling statistics in a paper called The Hazards of Hospitalization: "During the 8-month study, 1,014 patients were admitted one or more times to the medical service, for a total of 1,252 admissions. The house staff recorded 240 episodes occurring in 198 different patients." Thus, 20% of patients admitted to a university hospital medical service suffered one or more iatrogenic incidents, and 20% of those incidents were serious or fatal.
In 1981, Dr. Knight Steel et al. from Boston University Medical Center likely sounded the most disturbing alarm. In a thorough five-month prospective study, they reported, "We found that 36% of 815 consecutive patients on a general medical service of a university hospital had an iatrogenic illness. In 9% of all persons admitted, the incident was considered major in that it threatened life or produced considerable disability.
Ten years later, in 1991, the Harvard Medical Practice Study looked at iatrogenic incidents in patients hospitalized in New York State in 1984. They found that nearly 4% of patients suffered an injury that prolonged their hospital stay or resulted in a measurable disability. That was 98,609 patients in one year alone.
A 1997 study found that there were close to 199,000 reported deaths related to the side effects of well-prescribed drugs in non-hospitalized patients.
A 1998 article entitled Time to Act on Drug Safety, written by a team of American epidemiologists, including a member of the FDA's drug safety advisory committee, reported, "Discovering new dangers of drugs after marketing is common. Overall, 51% of approved drugs have serious adverse effects not detected prior to approval."
In 1999, the Institute of Medicine (IOM) published a monograph in which it wrote, "Health care in the United States is not as safe as it should be—and can be." They estimated that 106,000 hospitalized patients were dying every year from the side effects of properly prescribed medications.
In 2007, the IOM reported that 400,000 preventable drug-related injuries were occurring every year in American hospitals. Another 800,000 were occurring in long-term care settings, and roughly 530,000 were occurring just among Medicare patients in outpatient clinics.
In 2009, hospital mortality associated with complications from inpatient surgery was measured from a pool of 84,730 patients who had undergone in-patient general and vascular surgery from 2005 through 2007, using data from the American College of Surgeons National Surgical Quality Improvement Program. It was found that the death rate from major complications following surgery was about 17%.*
It's been said "to err is human"… and while that is true – all too often the medical community ignores or covers up medical risks and harm to the detriment of millions. For some in medicine to suggest, as some did after learning the results of the Mass General study, that "awareness of problems is where all solutions begin" is disingenuous in the extreme. These problems are not new. And pretending they are only doing a disservice to the patients being harmed.
If you or a loved one is ever the victim of a surgical error, a defective drug, the improper prescription of a drug therapy, over-exposure to medical radiation, a hospital-acquired infection, a fall while in the hospital, a preventable blood clot, a misdiagnosis, or any form of medical malpractice, call a qualified Connecticut medical malpractice lawyer. A knowledgeable malpractice attorney can help to ensure that your rights are protected.
RisCassi & Davis has handled hundreds of medical malpractice cases over our 60 years serving the people of Connecticut.
What's more, our Connecticut medical malpractice lawyers have received local and national recognition for our handling of these cases.
We have a great team of legal experts dedicated to medical malpractice in Connecticut. Please contact us if we can help you.
The consultation is free and there is no obligation of any kind.