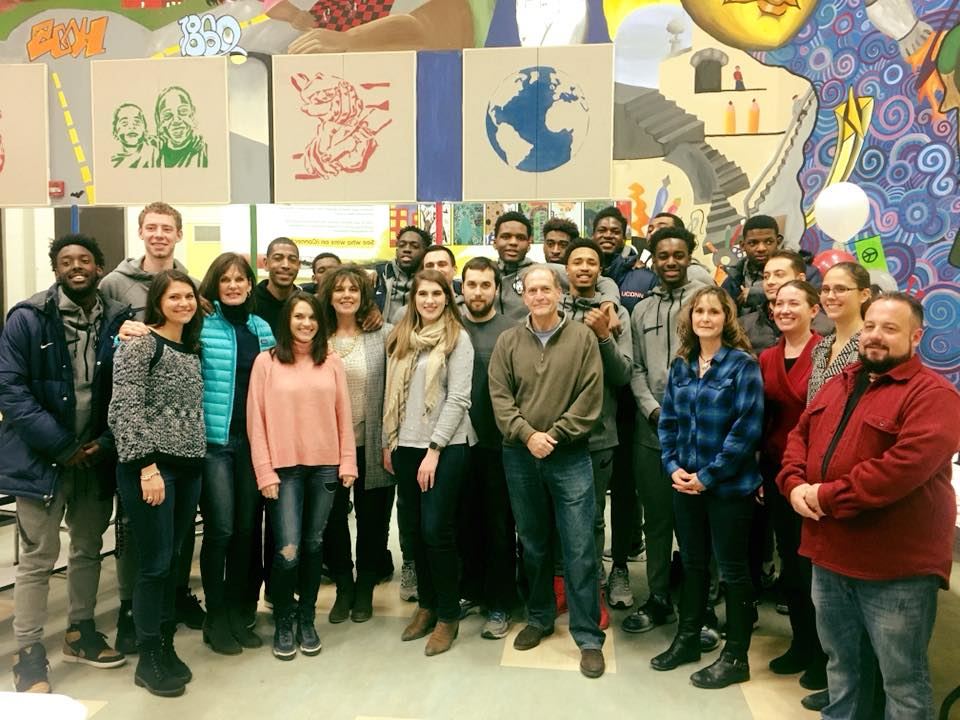 Each year for the past 18 years, all of us at the Hartford law firm of RisCassi & Davis have teamed up first with Coach Jim Calhoun and now with Coach Kevin Ollie to bring a bit of holiday joy to families in need in Hartford.
The Asylum Hills Boys and Girls Club was our destination this year – December 16, 2017.
And what a great night it was.
Coach Ollie and the players arrived at the club at 6:00 pm and were met in the club gymnasium by a throng of excited children and their families.
After a few brief remarks from Coach Ollie and team members, the children participated in either basketball drills or arts and crafts with the coaches and players.   From dribbling demonstrations and dunking contests in the gym to works of art in the creative arts center (yes – some of the players were coloring and making ornaments with the kids) – it was a night of laughter and fun.
After these activities, each child and their parents enjoyed a wholesome pizza party followed by gift-giving – with each child receiving an autographed basketball from Coach Ollie, an autographed team poster, a toy, a UConn throw blanket, a UConn tree ornament, and a $50 gift card to Big Y Supermarkets.
Throughout the evening, the wonderful folks on our staff organized and managed each activity while enjoying the peals of laughter and smiles on the faces of each little one and their parents.
We want to thank Coach Ollie and his team for allowing us to contribute so much to a night those Hartford children will never forget.