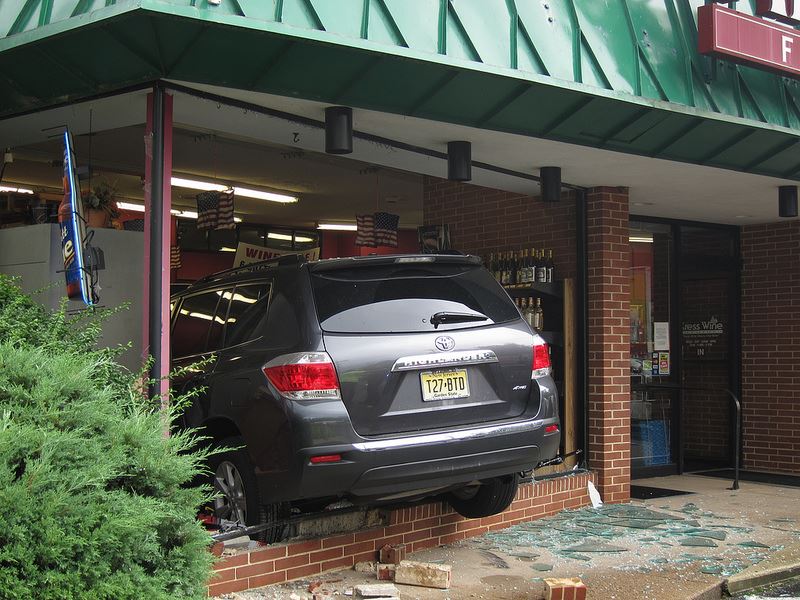 To be alive is to be exposed to risks… the risk of being in a car accident, the risk of falling on an icy surface, the risk of even the risk of being struck by lightning.
How about this one…
The risk of being struck by a car while eating in your favorite restaurant or shopping in your favorite corner market.
Believe it or not, 60 times a day in the U.S., a driver drives his or her car or truck into a retail building.
In 2013-2014 alone, there were over 6,000 storefront crashes in this country. Annually, 3,600 people are injured and over 500 killed in these accidents that also result in hundreds of millions of dollars in property damage.
More people are killed this way annually than by terrorists in the U.S.
Safety experts are now warning that cars parked in front of stores unprotected by barriers are "like loaded guns" – ready to go off.
As can be expected – some drivers are more prone to these crashes than others, with drunk drivers, young drivers, and the elderly leading the list.
Interestingly, despite the prevalence of these events – no state or federal agencies currently track these accidents.
So how do we make our public buildings safer?
One way is to make sure all stores, restaurants, and office buildings with front-facing parking lots erect barriers between each parking space and building.
All Barriers Are Not Alike
Perhaps the best form of protection against so-called storefront crashes are things called bollards. The typical and most common bollard is a cast iron sleeve filled with concrete that is inserted into concrete, pavement, or soil. These devices are intended to stop a car or truck in its tracks.
Sadly – new research shows that this old-style bollard is largely ineffective if a vehicle hits it traveling at speeds above 10 MPH.
The good news is that safety engineers have developed a new bollard – one made of thick stainless steel. In crash tests at Texas A&M, engineers have discovered that these new bollards can, in fact, stop vehicles in their tracks – even those traveling at 30 MPH at impact.
Can we expect to see these new protective barriers deployed throughout the U.S. in the near future?
Most experts say that is unlikely.
In the meantime, the best advice may be to choose your table in your favorite restaurant with care and be alert when shopping in stores with aisles facing the parking lot.
If you or a loved one are ever injured in a storefront crash in Connecticut, know that the Connecticut personal injury lawyers at RisCassi & Davis have been assisting people like you who've been injured in such accidents for over 60 years. If you are ever injured in an accident of any kind and would like a free consultation with one of our Connecticut personal injury lawyers, please contact us.  There is no obligation.
Photo credit: sameold2010