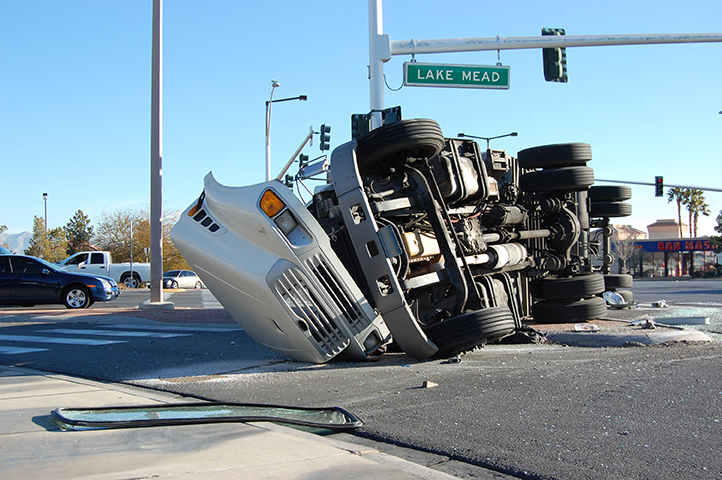 Tractor-trailer trucks crash and injure, or kill a person, every 15 minutes in the U.S.  Annually, there are approximately 500,000 truck accidents in the U.S.
Collisions between trucks and cars are often catastrophic for passengers in the smaller vehicle.  In fact, ninety-seven percent of all deaths in crashes involving large trucks involve passengers in their cars.
The cause of most truck accidents?
A recent study by the Federal Motor Carrier Safety Administration indicates that mechanical defects (most often tires), new truck routes, and fatigue are the most common causes of truck crashes.
Now suppose you've been in an accident with a truck and that accident was the fault of the truck driver.  Who do you hold legally responsible?
That's a great question.  There are several options. Here's a quick review of the possibilities:
The truck driver.  This choice is also the most obvious.  In any accident caused by a truck, the driver of that truck will almost always be named a defendant.
The trucking company.  Truck companies are required to comply with many local, state, and federal safety guidelines.  Accident victims may often sue the trucking company that owns the truck that caused a collision.
The owner of the commercial truck.  Many corporations deploy trucks for a variety of reasons.  The corporate owner of a commercial delivery truck is usually liable for damage and injuries after an accident.
Truck manufacturer.  Was the accident caused by a mechanical problem with the truck?  If it was, then the manufacturer of the vehicle may be named as a defendant in any lawsuit you file.
Third-party maintenance companies.  Outside maintenance providers service many trucks.  If that is the case, and a mechanical problem with that truck caused the truck accident in which you were injured, the third-party servicing company may be liable.
The drivers of other vehicles in the crash.  It is often the case that accidents are caused by more than one driver.  If that is the case in your situation, those drivers would also be liable for any harm caused to you or your passengers.
A few more facts about truck accidents…
Tractor-trailer truck statistics show that most truck crashes occur between noon and 3 PM.
Interestingly, according to truck accident statistics, Thursday is the most dangerous day of the week.
A little over half of all truck-related accidents occur on major roads other than interstates and freeways.
More than half of backing up accidents, up to 70%, involve large trucks or similar mid-sized trucking vehicles.
If you or a loved one are ever injured in a truck accident in Connecticut, know that the Connecticut accident lawyers at RisCassi & Davis have been assisting people like you who've been injured in these accidents for over 60 years.  And we have received both state and national recognition for our work in this area.  If you are ever injured in an accident of any kind and would like a free consultation with one of our Connecticut truck accident lawyers, please contact us.   There is no obligation.