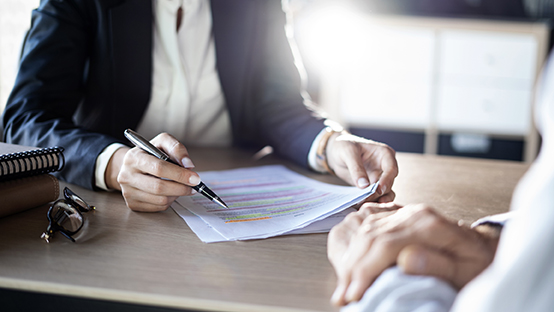 Have you been injured in an accident that was the fault of another party?
Chances are you'll be filing a claim, called a third-party claim, with that person's insurance company.
As soon as you do that, the considerable resources available to the big insurers swing into action.  Understanding the tricks of the insurance trade is important stuff.
How it works:
A human adjuster will be involved at the outset of an injury claim.  They will speak with the at-fault party and evaluate any accident or injury reports available.  They will also want to speak to you – and they'll spend a considerable amount of time investigating you and your claim – including whether you have a history of making such claims and even what you are saying about your accident on social media.
Never talk to an adjuster without the help and guidance of a personal injury attorney.
The adjuster will request numerous documents like medical bills, proof of earnings, tax returns, and proof of property damage.
With all this information in hand, the adjuster will attempt to place a value on your claim and, in the process, attempt to calculate your chances of winning should a personal injury lawsuit be filed.
But that's not all.  The big boys have other powerful tools they use to drive down the value of your claim as much as possible.
Just what are some of those tools?
Start with powerful computers using what's called claims adjusting software.
Insurance adjusters use these programs by entering data about your case and their interpretation of the severity of your injuries.  The software also considers whether you were hospitalized for your injuries and the treatments you received.
Enter Colossus…
Colossus is one of the industry's vaunted and most commonly used claim calculators.
Its role? To give insurance companies a rationale for reducing what they have to pay you for your claim.
And it's used by virtually all the property/casualty insurance companies in the U.S.
What's more, seasoned adjusters know how to game the software in ways that reduce the value of your claim.
When evaluating your injury, Colossus will define it as either "demonstrable" or "non-demonstrable." Demonstrable injuries are those that can be objectively verified by a definitive medical test. For example, an X-ray can show whether a bone is broken. Non-demonstrable injuries, like soft tissue injuries, are harder to place a monetary award on.
Why you need an experienced personal injury lawyer at your side…
Claims adjusting software like Colossus often undervalue claims.
Part of the reason for that lies with adjusters either gaming the system or not understanding how to value your injury properly.  Bad data in results in bad outcomes for you.
What's more, this software cannot possibly evaluate your pain and suffering, and it never takes into account personal testimony.
The flaws inherent in claims adjusting software are so problematic they were recently highlighted by the Consumer Federation of America.
If you or a loved one are ever injured in an accident in Connecticut, seek the help of a qualified and well-trained personal injury attorney.  The attorneys at RisCassi & Davis have been assisting people like you who've been injured in accidents for over 60 years.  And we have received both state and national recognition for our work in this area.  If you are ever injured in an accident of any kind and would like a free consultation with one of our Connecticut personal injury lawyers, please contact us. There is no obligation.