Hartford Motorcycle Accident Attorneys
Call Us After Being in a Wipeout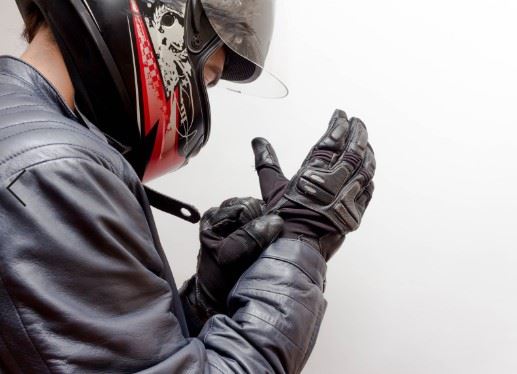 You need to know you can count on your legal counsel after being in a terrible motorcycle accident. The other motorist involved in your crash is more than likely going to blame you, even if they know that they are the one who caused the accident. Insurance companies who aren't presented with convincing evidence of liability might take the easy way out and decide to blame you, too, just because you ride a motorcycle. Without a strong legal professional representing you, your case could turn upside-down before you know what happened.
Stand up for yourself and pursue the compensation that is owed to you by teaming up with RisCassi & Davis, P.C. and our Hartford motorcycle accident lawyers. We are happiest when we know we have done an outstanding job for a client in need, which entails progressing their case with as little stress for them as possible and securing the largest possible compensation, either through a settlement or an award.
Let us help you with your motorcycle accident case. Call (860) 245-2412.
On This Page:
Damages Available to Injured Motorcyclists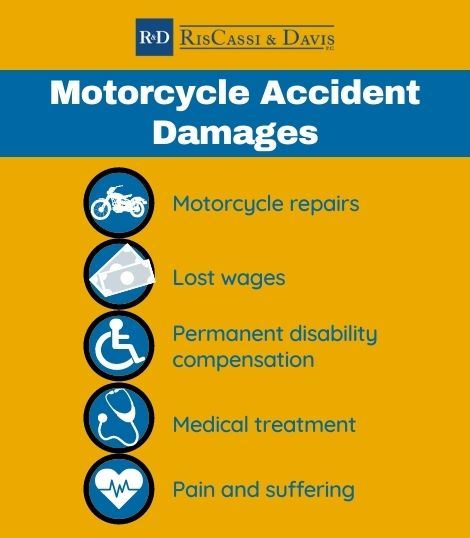 After a crash, motorcyclists are often diagnosed with severe injuries. Brain damage, spinal cord damage, and road rash are all common forms of injuries suffered by motorcyclists. Treating such injuries can get expensive, and the consequences of them can be widespread and varied. For these reasons, it is common for motorcycle accident claims to have steep values that insurance companies want to fight to keep low.
Damages in your motorcycle accident claim could include:
Vehicle repairs
Medical treatment costs
Lost wages and income
Pain and suffering
Permanent disability
And more
Common Motorcycle Accident Injuries
Motorcycle accidents are in nature much more dangerous; even a "minor" accident can result in serious injuries that can affect a biker for the rest of his or her life. Some of the most common injuries sustained in motorcycle accidents include:
Brain, spinal or back injuries
Road rash or other serious burns
Fractured or broken bones
Crushed limbs
Internal bleeding or internal organ damage
Pulled or torn muscles
Motorcycle Accident Concepts You Should Know
A few important things about motorcycle accidents that you should know are:
Motorcycle helmet use: Motorcyclists in Connecticut do not need to wear helmets when riding unless they are a minor. However, all motorcyclists are encouraged to wear helmets at all times to drastically increase their safety.
Lane splitting: Connecticut has no law that legalizes lane splitting. You should not lane split because drivers in the state won't expect you to ride between lanes to pass them.
Increased visibility: You should use ways to increase your visibility to other motorists, like wearing bright colors, placing reflectors on your motorcycle, using your turn signals whenever needed, and always keeping your headlight on, even during the day.
Let Us Take Your Claim & Elevate It
Two motorcycle accident claims will never be identical due to the details that go into the case. But the way a case is handled will also make it stand out from others. Make certain your case is being developed correctly and effectively by handing it to your motorcycle accident attorneys Hartford. We can manage your case as if we were representing a close friend or even ourselves!
Ready to get started on your motorcycle accident lawsuit? FREE consultations are available. Schedule one by dialing (860) 245-2412 and speaking to our motorcycle accident lawyers in Hartford.