Drunk driving accidents happen every day. In its most recent report, the National Highway Traffic Safety Administration found that every 45 minutes, equivalent to about 32 people each day, die because of a drunk driving crash. In 2020 alone, 11,654 people lost their lives because of these types of accidents, which was about a 14% increase from 2019.
For drivers in Connecticut, they may be surprised to learn where the Constitution State ranks compared to other states.
If a drunk driver injures you, it is essential to get legal representation so you can promptly get fair compensation. Contact the experienced Connecticut drunk driving accident lawyers at RisCassi & Davis, P.C. so we can start working on your case.
Drunk Driving Statistics
The Foundation for Advancing Alcohol Responsibility is a Virginia nonprofit focused on the safe consumption of alcohol and advocates against drunk driving. The organization compiled statistics from across the nation showing where each stands regarding drunk driving arrests, accidents, and fatal crashes.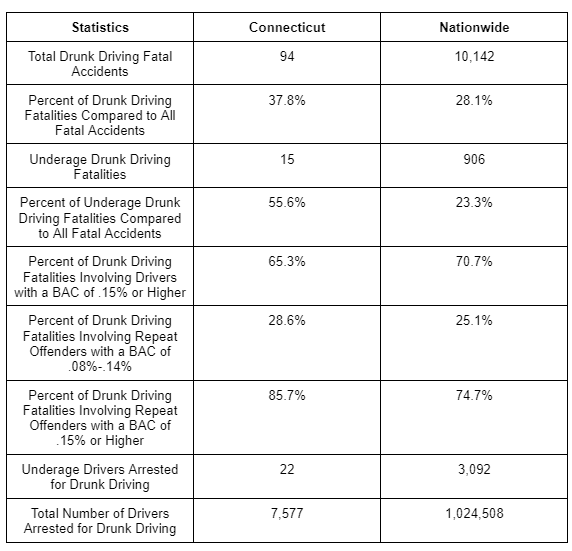 The statistics were based on data from 2019. Drivers can take away a few key pieces of information from this data.
Connecticut fatal drunk driving accidents make up less than 1% of all fatal drunk driving crashes in the U.S.
Connecticut underage fatal drunk driving accidents equate to about 1.6% of nationwide fatal drunk driving crashes.
If a Connecticut driver is under the age of 21 and dies in a crash, more than half the time, that accident can be traced back to an alcohol-related incident.
Drivers in nearly two-thirds of all fatal drunk driving accidents have a BAC higher than .15%. Additionally, more than 85% of the time these drivers are repeat offenders.
Connecticut makes up less than 1% of drunk driving arrests nationwide.
Holidays and Drunk Driving Accidents
An additional report found staggering statistics involving Connecticut drivers around the holiday season. The article from ValuePenguin.com found that around November and December in particular, 43% of fatal accidents in Connecticut involved a driver who was intoxicated. This was higher than any other state in the nation. Across the U.S., the report found during the same time period that, on average, fatal accidents involving drunk drivers made up about 30% of fatal crashes. States just behind Connecticut with higher-than-average drunk driving fatal accident percentages included Texas (41%) and Rhode Island (40%).
Connecticut Drunk Driving Accident Attorneys at RisCassi & Davis, P.C.
No matter whether it's around the holidays, after a night on the town, or driving during the daytime, drunk driving accidents happen every day and typically without much notice to an unsuspected victim. That's why it's critical for those injured by a drunk driver to get the proper legal representation right away.
If you were injured by a drunk driver, the experienced Connecticut drunk driving accident attorneys at RisCassi & Davis, P.C. are ready to help you. Our dedicated team can help you get compensation for damages including:
Medical fees;
Loss of wages;
Counseling services;
Pain and suffering; and,
Reduced quality of life, to name a few.
Don't hesitate to contact our knowledgeable team. We have helped countless individuals get the compensation they deserve and we want to be there for you too. Contact us online or by phone so we can start working on your case. (860) 245-2412