Hartford Car Accident Attorneys
In a Wreck? Count On Us for Legal Help
Do you need help making sense of your situation after being in a car accident that wasn't your fault? It is very common for people to feel lost, confused, and a bit out of hope after a wreck, especially if they have not been in a bad crash before. Our Hartford car accident lawyers of RisCassi & Davis, P.C. are here to show you that you do have your options to seek compensation and that they don't need to put any further stress into your life.
When you allow us to manage your case on your behalf, you can focus on yourself and your recovery, instead of legal frustrations and insurance company squabbles. We will dig into all the details of your case, including what happened, why it happened, and what damages it caused. This is what we've been doing for clients since 1955, and we don't intend on stopping any year soon.
For experienced legal counsel in Hartford, dial (860) 245-2412.
On This Page:
How We Build Strong Car Accident Cases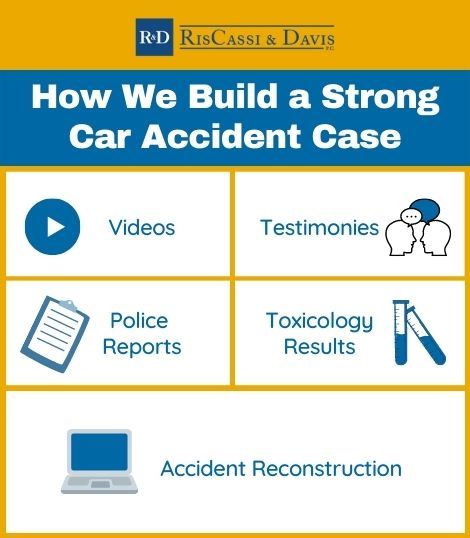 We understand that you have your choice of legal assistance when looking for a car accident attorney in Hartford to help with your claim. That is one of the reasons why we do what we can to go above and beyond your expectations and to truly become a law firm you can believe in. One way we do that is by utilizing valuable resources to build your claim from the ground up.
Five resources we can often use to benefit a car accident claim are:
Videos and testimonies: We know where to look and who to interview to learn more about your accident from other perspectives.
Police reports: The police often have the most comprehensive reports of a crash scene, so we'll want copies of anything they've written down.
Toxicology results: If there is any reason to suspect the other driver was drunk, then we can use toxicology test results to get to the truth.
Accident reconstruction: Our law firm can work with accident reconstruction experts to determine various details of your crash, like the speed of the other driver.
Biomechanical testimony: We might be able to use biomechanical evidence that proves who was driving the other vehicle at the time of the crash if that's being contested.
Types of Car Accident Cases We Handle
We are the top name in legal representation for clients who have been in all sorts of car accidents. Thanks to our decades of legal experience, there is virtually no type of car accident case that can catch us off-balance. When you need help, you know where to go, no matter the details of your crash.
To name only a few of the car accident claim types we can manage:
Uninsured/underinsured accidents
Rear-end accidents
Distracted driving accidents
Damages You Might Be Owed
What does the other driver owe you after you've been in a car accident? This question is one of the most important for your claim, so you should leave it up to our professional car accident attorneys to answer. We know where to look to accurately calculate your damages and maximize their values.
The other driver's insurance company might owe you damages related to your:
Medical bills
Vehicle damage
Lost wages
Pain and suffering
How Long After a Car Accident Can You Claim for Damages?
Connecticut's statute of limitations allows for victims of car accidents to file a personal injury lawsuit up to 2 years after the date of their accident. Failure to file a lawsuit within this timeframe will most likely result in the case being thrown out by the court.
How Long Does It Take to Settle a Car Accident Case?
One common question that our firm is asked regarding car accident lawsuits is "How long will it take till I receive compensation?" The answer to this depends on several things:
How serious your injuries are
Whether or not the insurance company is willing to negotiate with us for a fair settlement
Whether or not we take your case to court
At the end of the day our goal is to obtain the best settlement possible for our clients. That sometimes means waiting until clients reach maximum medical improvement so that we can accurately determine what long-term effects there may be from your injuries. We also believe in taking our time and building a strong case that will hold up in court. A car accident settlement may take anywhere from several months to several years, depending on the details of your case.
Should I Contact a Lawyer After a Car Accident?
While you might not need a lawyer to represent you for a minor fender-bender, it's important that you know when to reach out for legal help in order to protect your rights and ensure you get a fair settlement. If you have been dealing with any of the following issues, it may be time to call an attorney:
The insurance company is giving you the runaround and is refusing to offer a fair settlement
The insurance company is blaming you for the accident, even though you weren't at fault
You are unsure what amount of compensation will actually cover your injuries and other damages
You have been forced to miss work because of your injuries
Your injuries are preventing you from fighting your case with your insurance company
Support During Legal Challenges
It can be frustrating to try to get compensation from a negligent motorist who wants to deny their liability. But with our car accident lawyers in Hartford working on your case and standing by your side, we think you'll feel genuinely supported and ready for anything. A maximized recovery is possible, you just need to know how to pursue it. Count on us for guidance and representation at every step along the way.
For a free consultation, dial (860) 245-2412.