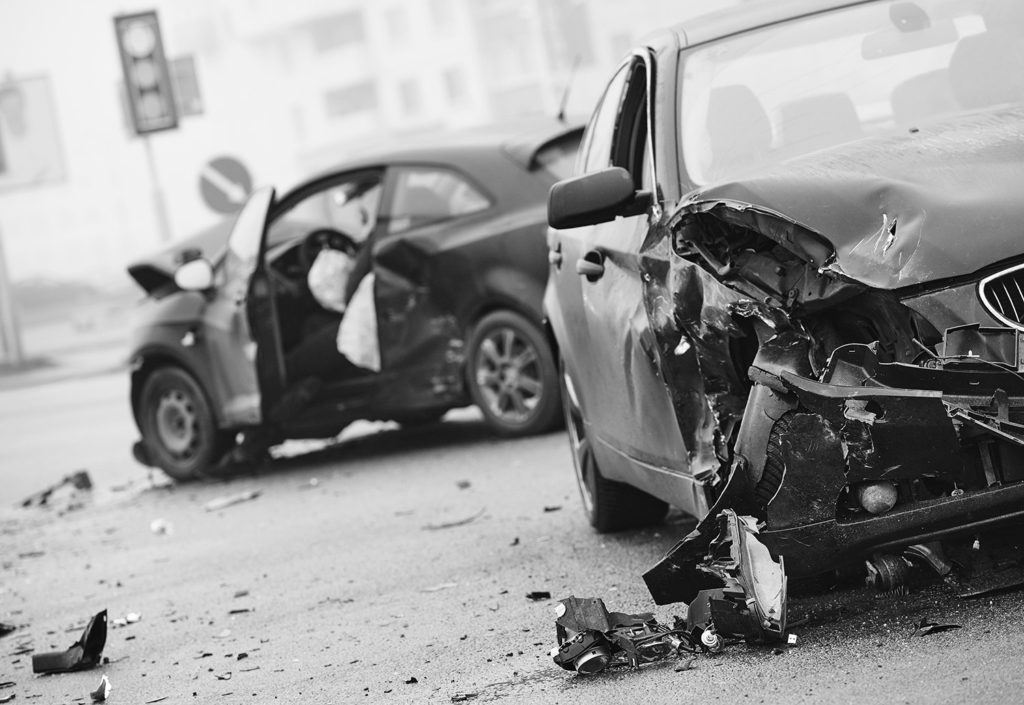 Being in a car accident is one of the most traumatic events a person can experience in their lifetime.
The shock alone is often remembered for decades.
The Connecticut personal injury law firm of RisCassi & Davis has been helping those injured in car accidents caused by other drivers for more than 60 years.  Here, we lay out the steps you should take should you or a loved one be injured in a car accident:
Immediately after the accident:
Call 911 – Always seek medical attention immediately if anyone is hurt.
Contact the police – This step will allow you to file a police report that details the facts of the case. Only discuss what happened to cause the accident and never admit fault or attach blame.
Request a report from the Emergency Medical staff that treated you or a loved one at the scene of the accident.
Preserve all evidence – Using your cell phone, take photos and videos of anything related to your accident, including your car's damage, the surrounding area, road signs, and road conditions, skid marks, damaged guardrails, trees, and other damaged stationary objects.
If possible, take photos of any other vehicles involved in the accident.
As soon as possible, write down every detail of the crash that you can remember.
Obtain the following information from the other driver(s):

Name
Address
Birthdate
Phone number
Driver's License Info
Insurance Info
Collect the other vehicle's Information, including make, model, year, license plate number, and, if possible, the vehicle identification number (VIN).

If there were eye-witnesses to the crash, collect all the information you can – including possible videos of witness comments as well as contact information for each. If they are willing, ask them to write down what they saw. Have them sign and date their statements and include their contact information.
Working with Insurance companies:
Don't give insurance companies a recorded statement – ever. Such a recording might be used against you in the future. Just say, "No."
Keep records of all communication between you and the other driver's insurance company.
Please do not discuss your incident or claim with anyone, except your doctors and our attorneys and staff. If investigators are hired by us to conduct investigations necessary to prepare your case, we will inform you of this fact, and you may speak with them.  Do not speak to any investigators whom we have not hired on your behalf.
Anything you say about your case, even to friends or acquaintances, can be used against you.  Let your attorney know if anyone tries to discuss your case with.
Always contact your attorney immediately if you receive correspondence (including emails) or forms regarding your case or your injuries.  Never sign anything related to your case or your injuries without first contacting your attorney.  If you receive a phone call from an investigator or claims adjuster on behalf of an insurance company, do not discuss your case with them or give them a statement, whether written or verbal. Instead, ask them to call your attorney.
Your personal injury lawyer needs to know a lot about your insurance coverage to maximize your chances of obtaining a fair recovery. As a result, your lawyer will need a complete copy of your insurance policy, including the declarations page that lists the limits of your insurance coverage and the legal language in the policy brochure and its amendments.  In some motor vehicle accidents, your lawyer may even need information on insurance policies for other family members or for vehicles in which you were riding.
If your bills are being paid by some form of health or accident insurance, your lawyer will require information about that plan as well, to assess the following:

What bills the insurance company must pay
Whether the insurance or self-insured plan has a right to be paid back from any money you may get in settlement of your case.
If you have signed any documents concerning reimbursement of medical costs, your lawyer will need copies of those as well.
Important:
There is never a good reason to post any information about your case online – ever. Not on Facebook, Instagram, Twitter, Snap Chat, in a blog, or anywhere else. Just as you should not speak to anyone other than your doctors or personal injury attorneys and staff, you should also avoid posting information online about your accident or injuries. This advice includes photos, comments about your injuries, the circumstances of the accident, or comments about the other parties or attorneys involved in your case.  You should assume that the opposing attorneys and insurance adjusters can see all postings on Facebook or similar social networking sites.  You can be confident they will be looking at all of these sites for anything that might be posted about you.
There are privacy settings on most social networking sites that allow you to control who gets to see the content that you post. What you can't always control, however, is what others do with that information.  There may be nothing you can do to stop someone from copying and pasting what you post.  You can delete something from your profile, but you can't prevent others from posting it to their sites or sharing it via email or other means.
If you or a loved one are ever injured in a car accident in Connecticut, know that the Connecticut car accident lawyers at RisCassi & Davis have been assisting people like you who've been injured in accidents for over 60 years.  And we have received both state and national recognition for our work in this area.
If you are ever injured in an accident of any kind and would like a free consultation with one of our Connecticut car accident lawyers, please contact us.  
There is no obligation of any kind.