Distracted Driving Accidents Real Lawyers. Real Results.
Distracted Driving Accident Attorneys in Connecticut
Were You Hurt By a Texting Driver? Get Help Now!
Distracted driving is a leading cause of car accidents in Connecticut and throughout the United States. Despite traffic laws that prohibit the use of cell phones while driving, there were still nearly 5,000 accidents attributed to distracted driving in Connecticut in 2020.
If you or a loved one were in a distracted driving accident in Connecticut, know that the car accident lawyers at RisCassi & Davis, P.C. have been assisting people like you for over 60 years and we have received both state and national recognition for our work in this area, including:
Top listing in "The Best Lawyers in America" and "Best Law Firms"
Top listing by Martindale-Hubbell as a "New England Top Rated AV Preeminent® Law Firm.
Admission of five of our personal injury lawyers as members in the very prestigious American College of Trial Lawyers. The American College is a professional society of Fellows who become members only by invitation, with admission limited to experienced, outstanding trial lawyers who are unquestionably and eminently qualified as actively engaged trial lawyers. Only 1% of all trial lawyers in any state are offered admission as members to the College.
Listing in New England Super Lawyers published by Connecticut Magazine. Less than 5% of attorneys in the New England states receive this honor
Lifetime Achievement awards from the Connecticut Trial Lawyers Association
Board Certification by the National Board of Trial Advocacy
If you would like to schedule a free consultation with one of our Connecticut distracted driving accident lawyers, please contact us online or call (860) 245-2412.
What is Distracted Driving?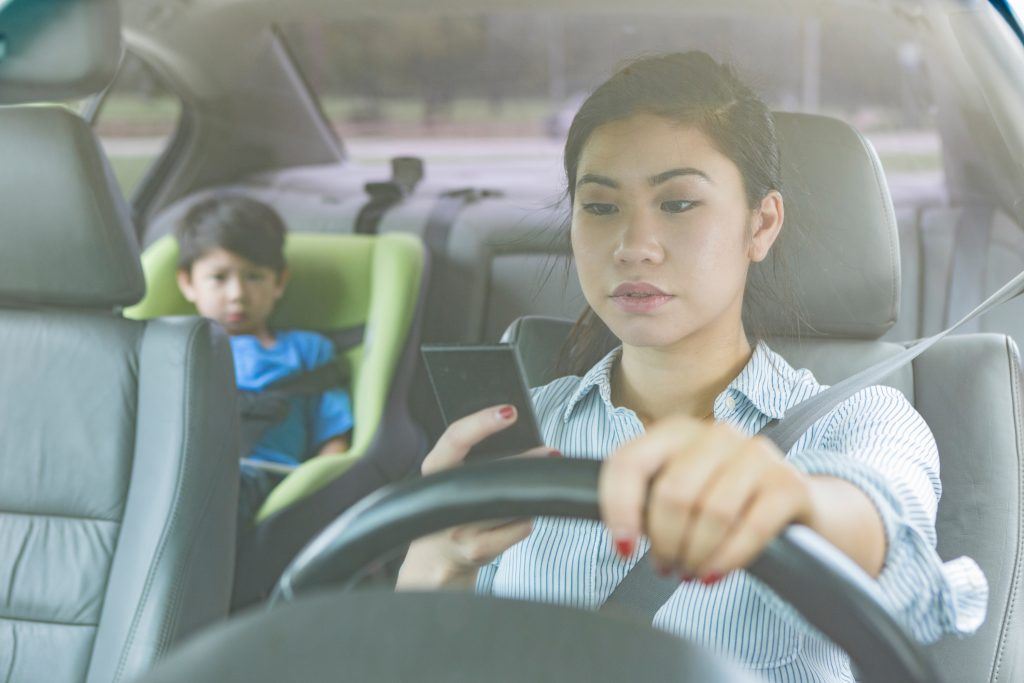 The National Highway Traffic Safety Administration (NHTSA) classifies distracted driving as: (a) visual tasks, those that cause a driver to divert his or her attention from the road (e.g., checking the speedometer), (b) manual tasks, requiring a driver to remove one or both hands from the steering wheel, and (c) cognitive tasks, those that cause a driver's mind and focus from the task of driving.
Some of the most common examples of distracted driving are:
Cell phone use
Eating and drinking
Applying makeup or adjusting clothes
Talking with friends or children
Regardless of the cause of the distracted driving accident, ultimately negligence is to blame. Let the experienced attorneys at RisCassi & Davis, P.C. fight for justice for you or a loved one after a distracted driving accident in Connecticut. We proudly serve Hartford, Avon, Middletown, and beyond.
Why Is Distracted Driving So Dangerous?
Distracted driving has emerged as a significant threat on our roads, jeopardizing the safety of both drivers and pedestrians. In an era where technology constantly vies for our attention, understanding the perilous consequences of distracted driving is crucial.
Reduced Attention to the Road: When a driver becomes distracted, their primary focus shifts away from the road. Whether it's texting, adjusting the radio, or even daydreaming, diverting attention from driving can have catastrophic consequences. Reduced attention to the road means slower reaction times and an impaired ability to recognize and respond to potential hazards.
Impaired Reaction Time: One of the most significant dangers of distracted driving is the delay in reaction time it induces. When a driver is not fully engaged in the task of driving, they are less likely to react promptly to sudden changes in traffic conditions, such as a car braking or a pedestrian crossing the street. Even a split-second delay can lead to devastating accidents.
Decreased Situational Awareness: Situational awareness is the ability to comprehend what is happening in the environment around you while driving. Distracted drivers often fail to maintain a clear picture of their surroundings, missing crucial information like traffic signals, road signs, or the behavior of nearby vehicles. This diminished awareness can result in dangerous maneuvers and accidents.
Increased Likelihood of Collisions: Distracted driving substantially elevates the likelihood of collisions. Whether it's a rear-end collision, a sideswipe, or running a red light, distracted drivers are more prone to accidents due to their compromised attention and decision-making abilities. These collisions can range from minor fender benders to life-altering, fatal crashes.
Vulnerable Road Users: Pedestrians, cyclists, and motorcyclists are particularly vulnerable when sharing the road with distracted drivers. These road users have limited protection, and even a momentary lapse in a driver's attention can result in catastrophic consequences for them.
Legal and Financial Ramifications: Beyond the immediate safety risks, distracted driving can lead to legal consequences and financial burdens. Laws against distracted driving have become more stringent in recent years, with fines and penalties for offenders. Additionally, insurance premiums often skyrocket for individuals with distracted driving violations.
When to Call an Attorney After a Distracted Driving Accident
If you've been hurt in any type of car accident, the first thing you should do is seek medical attention right away - the next thing you should do is call an experienced attorney.
While an attorney can help you with simple accident claims, they are most beneficial when:
The case involves serious injuries or wrongful death
There is complex or disputed liability
The insurance company is offering a low-ball settlement
For over 60 years, the firm of RisCassi & Davis, P.C. has fought for the rights of injured individuals throughout Connecticut. Let us be your voice for distracted driving accident claims so that you can get the maximum compensation you are owed.
Discuss your case during a free consultation with our distracted driving accident lawyers in Connecticut. Call (860) 245-2412 to get started.
Frequently Asked Questions
How many people die from texting and driving?
According to the NHTSA, approximately 400 people were killed in texting and driving accidents in 2020. That number was down from the previous year which saw 430 deaths. The drop in reported deaths could be due to the COVID-19 lockdowns and reduced traffic during that period, which means texting while driving deaths may see an increase in coming years.
Our Settlements & Verdicts
Recent Case Victories
$12.6 Million Wrongful Death

Injury and death damages as a result of an explosion at the Kleen Energy plant.

$11 Million Truck Accident

Collision with commercial delivery truck results in brain injury.

$9 Million Paralyzed Worker

$9,000,000 settlement for a paralyzed construction worker.

$8.1 Million Medical Malpractice

Improperly performed biopsy lead to wrongful death.

$7.5 Million Automobile Accident

Nursing student who was rendered a paraplegic as the result of a motor vehicle accident.