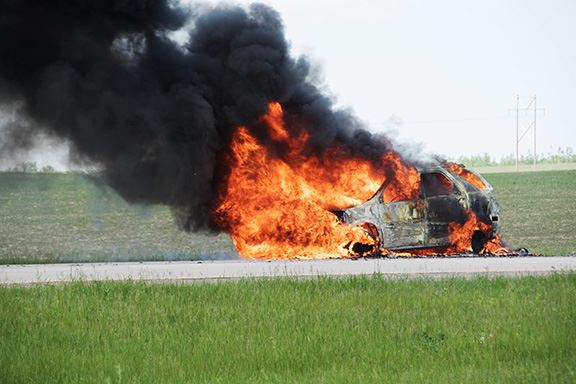 Do you own a Kia or a Hyundai car built between 2010-2015 with a 2.0- or 2.4-liter engine?
If you do – your vehicle is at risk of catching fire after stalling.
The National Highway Traffic Safety Administration (NHTSA) has just opened an investigation into these automakers after reviewing over 3,000 reports of fires in the vehicles.
None of these fires was caused by an accident, and in some cases, the fires started even when the car was turned off completely. One hundred and three of these fires caused injuries, one resulted in a death.
The 2010–2015 Kia Soul; 2011–2014 Hyundai Sonata, Sonata hybrid, and Santa Fe; Kia Optima, Optima hybrid, and Sorento; and 2013–2014 Hyundai Santa Fe Sport are the vehicles being reviewed by the NHSA.
According to the Ralph Nader–backed Center for Auto Safety (CAS), many of these vehicles contain a four-cylinder, direct-injection engine (often a Theta II engine) – previously recalled for improperly machined crankshafts and crankpins that caused the engines to seize.
The CAS has collected complaints of "melted wires in the engine bay, smoke, and burning odors" as well.  NHTSA is also investigating fires originating in the cars' wiring harnesses and taillights
It was a petition to the NHSA from CAS that started the current investigation.
It's important to note that this latest action by NHSA is not a recall. If the government determines there is a defect with these cars – a recall can be ordered.
All of this begs the question – why haven't the automakers themselves already recalled these vehicles?
They are undoubtedly aware of the problem.
Why is it so often necessary for a tragic event to occur before responsible action is taken?  That is the question of the ages.
If you or a loved one has been injured by a defective or dangerous product, call a qualified Connecticut product liability lawyer. A knowledgeable product liability attorney can help to ensure that your rights are protected.  What's more, our product liability lawyers have received local and national recognition for our handling of cases like these.
We have a great team of legal experts dedicated to product liability cases in Connecticut. Please contact us if we can help you.
The consultation is free, and there is no obligation of any kind.