Hartford Truck Accident Lawyers
No Case is Too Tough for Our Team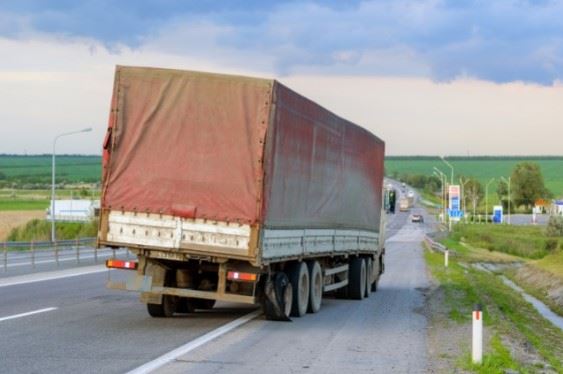 Trucking companies are notorious for making things difficult for truck accident claimants. They do not want to pay a dime in compensation if they can avoid it, so they put up a fight in every way they can manage. If you need to file a truck accident claim or you have already started one, then you should prepare your case for anything with the help of RisCassi & Davis, P.C.
We're a team of Hartford truck accident attorneys who are backed by decades of legal experience. Our firm first opened in 1955, so you can be confident that we know all about personal injury cases, liability laws, and more. Take our experience and use it to your advantage by allowing us to manage your case on your behalf.
Initial consultations are free, and we offer contingency fees. Pursuing compensation with our truck accident lawyers in Hartford is virtually risk-free.
On This Page:
Common Causes of Truck Accidents
While big rig accidents can be caused by some of the same errors as passenger vehicle accidents, there are some additional risk factors that make truck accidents more deadly when they do occur. Some of the most common causes of semi truck accidents include:
Distracted, fatigued, or impaired driving
Lack of training or experience
Speeding (especially driving too fast for weather conditions)
Aggressive driving or poor judgment
Passenger vehicles cutting off or driving dangerously around large trucks
Who is Liable for a Truck Accident?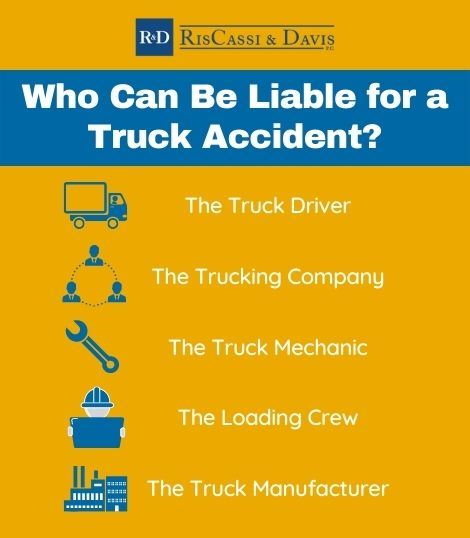 A liable party in a personal injury claim is the one who caused the accident and, therefore, should be the one who pays for the damages. In your truck accident case, you might be surprised to find that there is more than one liable party. When we are working on your case, we can investigate the cause of your truck accident to identify all liable parties and file claims against them. Oftentimes, we only need to file one claim that names all the defendants, who can them fight among themselves to determine who should put in what effort to challenge your claim.
The parties who could be liable for your truck accident might include:
Truck driver: When a crash is caused by commonplace negligence, like driving while distracted or intoxicated, the truck driver could be the party that is primarily liable.
Trucking company: Liability can be placed on a trucking company if it hires a trucker who is not qualified for the job, like someone who has no commercial driver's license.
Mechanic: A mechanic who works on a commercial truck but fails to repair all of its issues can be liable if such an issue causes a crash later.
Load crew: Cargo is usually placed in a trailer by a third-party load crew, who can be liable if incorrect loading techniques later cause an accident.
Truck manufacturer: A truck part manufacturer could be liable if the truck driver lost control of their vehicle due to a catastrophic part defect, like a braking system failure.
Can You Settle Your Truck Accident Claim?
Trucking companies do not want to hurt their wallets by paying you compensation after a crash, but they also do not want to hurt their reputations. When a truck accident case goes to court for litigation, it becomes a public record. Details of the case will end up in news headlines, which could look bad for the company if the public sides with the plaintiff.
To keep cases out of the courtroom and the public eye, trucking companies do agree to settle most truck accident claims. Settlements are confidential, and they give the defendant some control over how much they pay the claimant. Also, reaching a settlement is usually less expensive and time-consuming because no court fees need to be paid.
With this said, your truck accident claim could very well settle – but it depends on the strength of the claim. If the trucking company and their insurer believe your claim is weak, then they will probably fight you to the end and hope you give up your case before going to court. You need to be able to have confidence in your case if you want to hope for a settlement. To strengthen your claim without stressing yourself out, put us in charge of it.
What Can a Truck Accident Lawyer Do For You?
You might be wondering why you should bother hiring a Hartford lawyer to fight your case for you. Here are several things a Hartford tractor trailer accident attorney can do to help you win your case:
Compile evidence to support your case
Obtain supporting testimony from accident experts
Calculate a fair settlement amount including financial damages & pain and suffering
Negotiate with the insurance company on your behalf
Handle the paperwork and court proceedings so that you can rest and recover
Fatal Truck Accident Lawsuits
Sadly, not everyone survives serious tractor trailer accidents. In 2019 alone there were over 4,000 fatalities related to large trucking accidents, the majority of which were passenger vehicle occupants, pedestrians, and bicyclists. If you have lost a loved one in a commercial truck accident, you may have grounds for pursuing a wrongful death claim to recover damages for things like burial expenses, loss of income, loss of companionship, pain and suffering, and more. Reach out to our tractor trailer accident lawyers in Hartford today for help.
65+ Years of Legal Experience At-the-Ready
Our truck accident attorneys in Hartford have more than 65 years of collective legal experience, which is far more than most law firms in Connecticut can hope to claim. With so much hanging in the balance when your truck accident case is pending, shouldn't you trust matters to a team with our experience? We think so, and we think you'll agree after a FREE initial consultation.
Dial (860) 245-2412 to schedule your free consultation at your earliest convenience.
Related Reading: