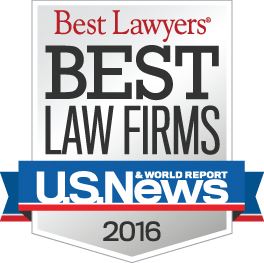 For the 7th year in a row, the Connecticut personal injury law firm of RisCassi & Davis has been named a Tier 1 Best Law Firm in personal injury litigation for Hartford by U.S. News and World Report and Best Lawyers.
The U.S. News and World Report – Best Lawyers "Best Law Firms" rankings are based on a rigorous evaluation process that includes the collection of client and lawyer evaluations, peer review from leading attorneys in the field, and a review of additional information provided by other law firms as part of the formal submission process. To be eligible for a ranking in a particular practice area and metro region, a law firm must have at least one lawyer who is included in Best Lawyers in that particular practice area and metro. RisCassi & Davis is proud to have 10 of 12 attorneys listed by Best Lawyers.
Why do honors like this one matter?
Choosing a personal injury lawyer is a daunting task in Connecticut. With so many law firms aggressively vying for these cases – identifying the truly qualified personal injury attorney for your case is difficult. That's why we believe it's so important to do your homework and ask some tough questions when interviewing attorney candidates.
Here are just a few of the questions you should ask each one:
Are you a Board Certified Trial Lawyer?
Are you recommended by your peers – those outside of your law firm?
Have you received any regional or national recognition for your work in this area of the law? If so – what form does it take?
Have you been named to the American College of Trial Lawyers, the American Board of Trial Advocates, or named a James W. Cooper Fellow? (These are some of the highest honors an attorney can receive.)
How many cases have you taken to trial and won?
If you're ever injured through no fault of your own, know that the Connecticut personal injury lawyers at RisCassi & Davis have been assisting people injured in accidents for 60 years. And we have received both state and national recognition for our work in this area. If you are ever the victim of an accident or medical malpractice of any kind and would like a free consultation with one of our Connecticut personal injury lawyers, please contact us. 
We are ready to help you and there is no obligation.